Technical Bulletin
| | | | | | |
| --- | --- | --- | --- | --- | --- |
| Model(s) | Year | Eng. Code | Trans. Code | VIN Range From | VIN Range To |
| Passat, Passat Wagon | 2006 – 2008 | All | All | All | All |
Condition
80 07 08 Nov. 28, 2007 2016869
Heater, Output Perceived as Insufficient, Climatronic System Only
Note:
The condition as described does not compromise visibility.
Technical Background
Customer may comment that the air coming out of the driver or passenger side vent is not warm enough.
Production Solution
No production change required.
Service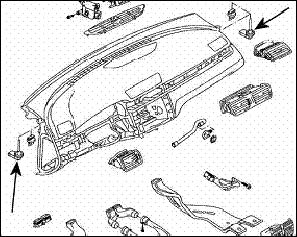 Diagnose the -G150- and/or -G151- temperature sensor (arrows) using normal GFF protocol.
Tip:
-G150- sensor is located behind driver's side instrument panel cover, in the vent tube (next to the fuse panel), -G151- sensor is located on passenger side in the vent tube.
Warranty
Information only.
Required Parts and Tools
No Special Parts required.
| | |
| --- | --- |
| Tool Description | Tool No: |
| VAS Diagnostic Tool | VAS 5051/5052 |
Additional Information
All part and service references provided in this Technical Bulletin are subject to change and/or removal. Always check with your Parts Dept. and Repair Manuals for the latest information.
80-07-08